Selecting the right stroller for your baby is a crucial decision that can greatly impact your daily routine and your child's comfort and safety. With a wide range of stroller options available, each designed to meet specific needs and lifestyles, it's important to consider various factors when making your choice. In this guide, we'll explore the key considerations and features to look for when deciding which stroller is good for your baby.

Types of Strollers
Before diving into the specifics, it's essential to understand the different types of strollers available, each catering to specific purposes and lifestyles:
1. Standard Strollers
- Versatility: Standard strollers, also known as full-size strollers, are designed for everyday use. They offer a balance between functionality and convenience and can accommodate infants through toddlers.
- Features: They typically come with a comfortable seat that reclines, a storage basket, and often a reversible seat for both rear- and forward-facing positions. Some models are compatible with infant car seats, making them suitable for newborns.
2. Travel System Strollers
- Compatibility: Travel system strollers are designed to work with infant car seats. They offer seamless transitions between car and stroller, allowing you to move your sleeping baby without disturbance.
- Convenience: These strollers are a great choice for parents who frequently travel in a car and want the convenience of a car seat that easily clicks into the stroller frame.
3. Umbrella Strollers
- Portability: Umbrella strollers are lightweight and compact, making them ideal for travel and quick outings. They are not suitable for infants, as they lack the recline and support necessary for newborns.
- Ease of Use: These strollers are easy to fold and store and are typically designed for children aged six months and older.
4. Jogging Strollers
- Active Lifestyle: Jogging strollers are designed for parents who enjoy jogging or running and want to bring their child along. They have larger, air-filled tires for a smoother ride and a three-wheel design for maneuverability.
- Suspension: These strollers often feature a suspension system to absorb shocks and ensure your baby's comfort during physical activities.
5. Double and Triple Strollers
- Multiple Children: Double and triple strollers are designed for parents with twins or multiple children. They come in various configurations, such as side-by-side or tandem, to accommodate multiple kids.
- Versatility: Some models allow for different seating arrangements, including the option to attach infant car seats or bassinets.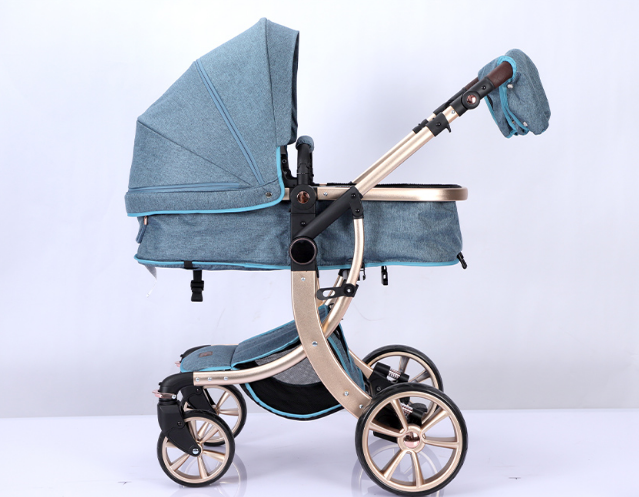 Multi-Function 3 In 1 Baby Stroller G608-1
Key Considerations for Choosing a Stroller
When deciding which stroller is best for your baby, consider the following factors:
1. Age and Size of Your Child
- Newborns: If you have a newborn, look for a stroller that offers a fully reclined seat or is compatible with infant car seats. Ensure that the stroller provides adequate head and neck support.
- Toddlers: For older babies and toddlers, choose a stroller with a comfortable, upright seat and appropriate weight and height limits.
2. Lifestyle and Activities
- Daily Use: If you plan to use the stroller for daily outings, a standard or travel system stroller may be suitable for your needs.
- Active Lifestyle: If you're an active parent who enjoys jogging or off-road adventures, consider a jogging stroller with features like all-terrain tires and a suspension system.
3. Storage and Transportation
- Storage Space: Assess the storage options, including the size of the storage basket and additional pockets or compartments. Ensure you have enough room for diaper bags, groceries, or other essentials.
- Foldability: If you have limited storage space or frequently use public transportation, opt for a stroller that folds easily and compactly.
4. Maneuverability and Handling
- Wheels: Pay attention to the stroller's wheel design. Larger wheels with suspension systems offer better stability and smoother rides, especially on uneven terrain.
- One-Hand Folding: Some baby strollers feature one-hand folding mechanisms for added convenience.
5. Safety and Comfort
- Harness: Check the stroller's harness system. A five-point harness is the safest option, securing your baby at the shoulders, waist, and between the legs.
- Recline Options: Ensure the stroller has multiple recline positions to accommodate your child's comfort, including fully upright and fully reclined positions.
- Sun Protection: Look for a stroller with a large canopy to shield your baby from the sun and elements.
6. Budget
- Affordability: Stroller prices can vary significantly. Determine your budget and prioritize features that are essential for your lifestyle and your baby's comfort and safety.
Additional Features to Consider
While the factors mentioned above are fundamental, you may also want to consider these additional features:
1. Adjustable Handlebar
- An adjustable handlebar accommodates parents of varying heights, ensuring a comfortable pushing experience.
2. Reversible Seat
- Some strollers offer reversible seats, allowing your baby to face you or face forward, depending on their age and preference.
3. Travel-Friendly Features
- If you travel frequently, look for strollers that are compatible with airline carry-on regulations and come with travel bags.
4. Accessories
- Consider the availability of compatible accessories such as cup holders, snack trays, and rain covers for added convenience.
Conclusion
Choosing the right stroller for your baby is a significant decision that should be based on your lifestyle, your child's age and needs, and your budget. Consider the type of stroller that best suits your daily activities, whether it's a standard stroller for everyday use, a travel system for car convenience, an umbrella stroller for travel, or a jogging stroller for active lifestyles. Pay attention to safety features, comfort options, and storage capacity to ensure that both you and your baby have a pleasant strolling experience. Ultimately, the best stroller is one that meets your specific requirements and provides a comfortable and secure ride for your little one.
---
Hebei Province Shimaotong Import and Export Service Co., Ltd. was established in April 1995, has always been committed to the R&D, design, and manufacture of baby strollers and walkers and other maternal and child products.
We have our own designers, engineers and professional production teams. We are an enterprise integrating R&D, designing, proofing, production and processing, export packaging, third-party quality inspection, after-sales tracking and and other whole industry chain enterprises.
If you want to know more information about baby strollers and walkers, please click on the image below to get a free quote: